Articles in this section
Subscribing to Vtiger CRM from Microsoft Teams
29 Nov, 2022 - Updated
9 months ago
Table of Contents
Introduction
Microsoft Teams is a communication platform developed by Microsoft. It is a dynamic video chat platform that makes for easy business communication across organizations.
Microsoft provides a transactable Software-as-a-Service (SaaS) offer from Microsoft teams. They provide a platform to sell Independent Software vendors (ISVs) services which is called the Microsoft Appsource. 
They have developed a cloud partner program where the users can log in to their Microsoft Teams account and choose to buy the subscription by installing the app.
Vtiger CRM is available in the Microsoft Appsource. You can now buy the subscription to Vtiger CRM by selecting the quantity, name and address, and giving your card details. You can also opt for a free trial. Vtiger has provided the option to log in to the website with the help of a SSO button. This helps you to log in without remembering any passwords. 
Benefits of Subscribing to Vtiger CRM from Microsoft Appsource
There is a marketplace where you can buy subscriptions to purchase SaaS services.

Can log in to the website with the help of the SSO button without remembering passwords.
Feature Availability
Microsoft Teams is available for all editions of Vtiger CRM.

One month of free trial is provided for

One Enterprise and One Professional Edition

and it is available for free in

One Pilot

.
In this article, you will learn
how to subscribe to and install the Vtiger CRM app from Microsoft Teams.
Key Terminology
| | |
| --- | --- |
| Independent Software Vendors(ISVs) | Independent Software vendors are individuals or companies that develop and sell software applications. |
| Software-as-a-Service (SaaS) | It is a software delivery method that helps access software services online with the help of a subscription. |
| Video chat | This is an online face-to-face conversation using the internet and web camera.  |
| Subscription | A payment is made to receive a service online for a certain period of time. |
| Marketplace | A place where goods or services are bought and sold online. |
Purchasing a Subscription from Microsoft Teams
You must have a Microsoft Teams account to install the Vtiger CRM app to buy a subscription.

Follow these steps to install Vtiger CRM app:
Log in to your

Microsoft Teams account

.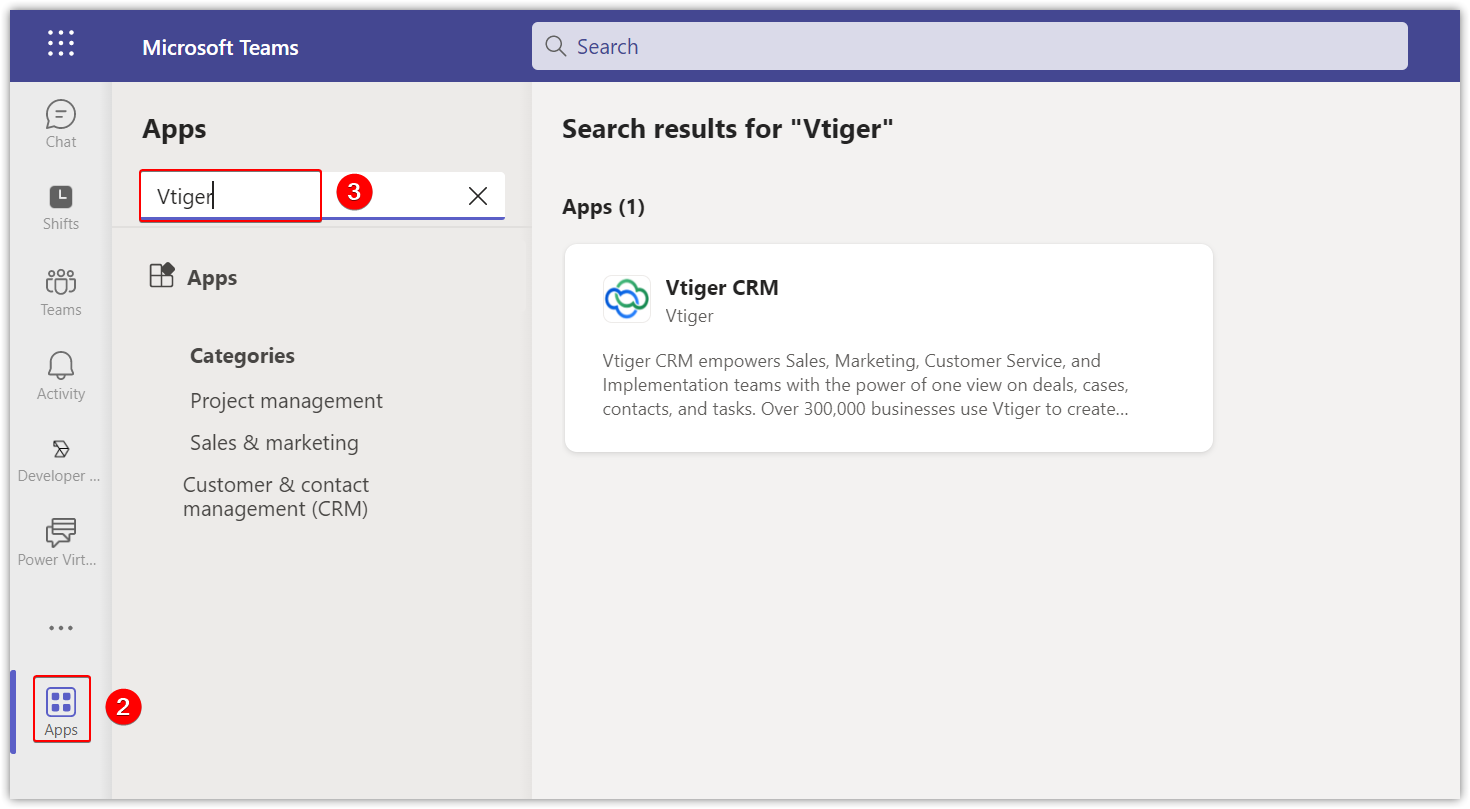 Go to the

Apps section

.

Type

Vtiger CRM

in the

Search field

.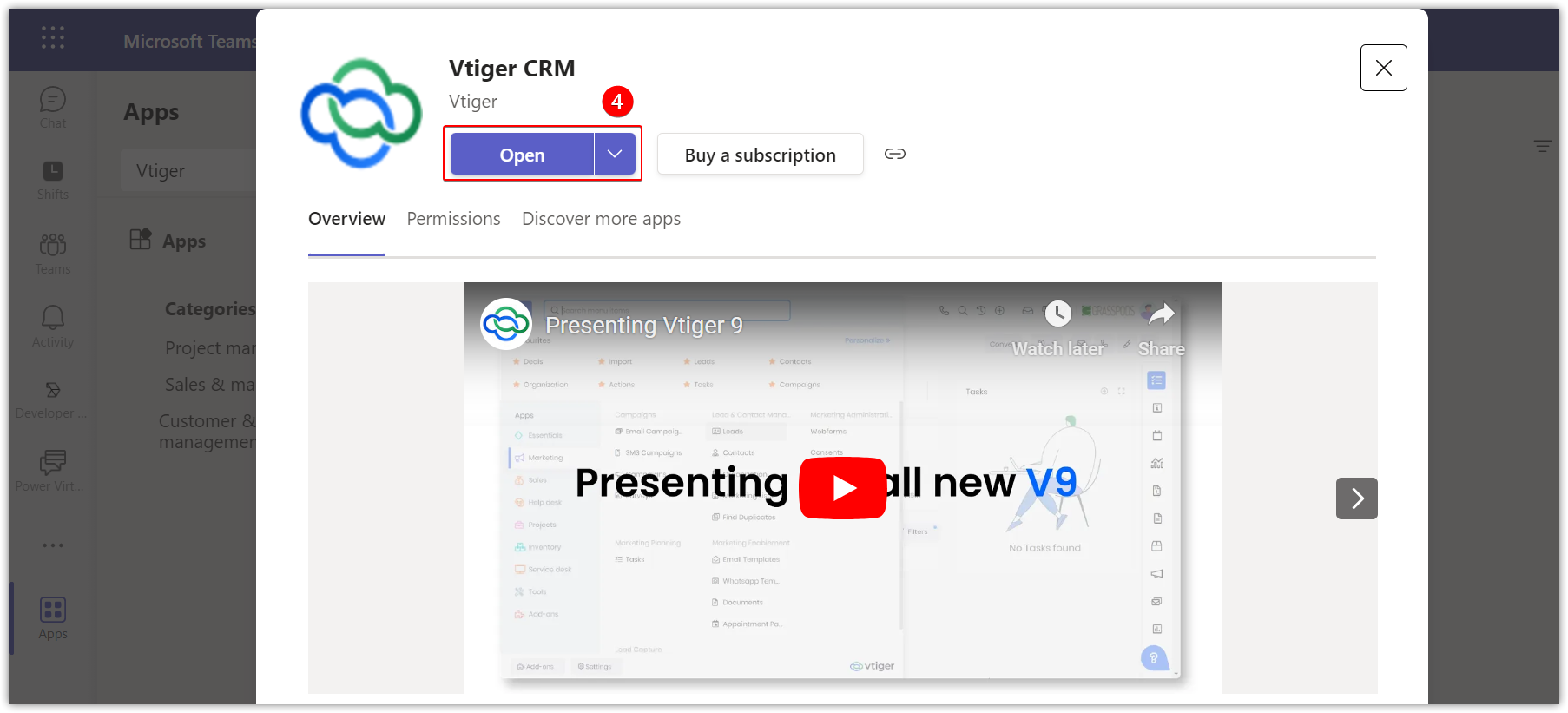 Click

Open
Click

Sign up

.
Note: 
You can sign up for a free edition with One Pilot.

If you want to buy an edition, click Buy Subscription.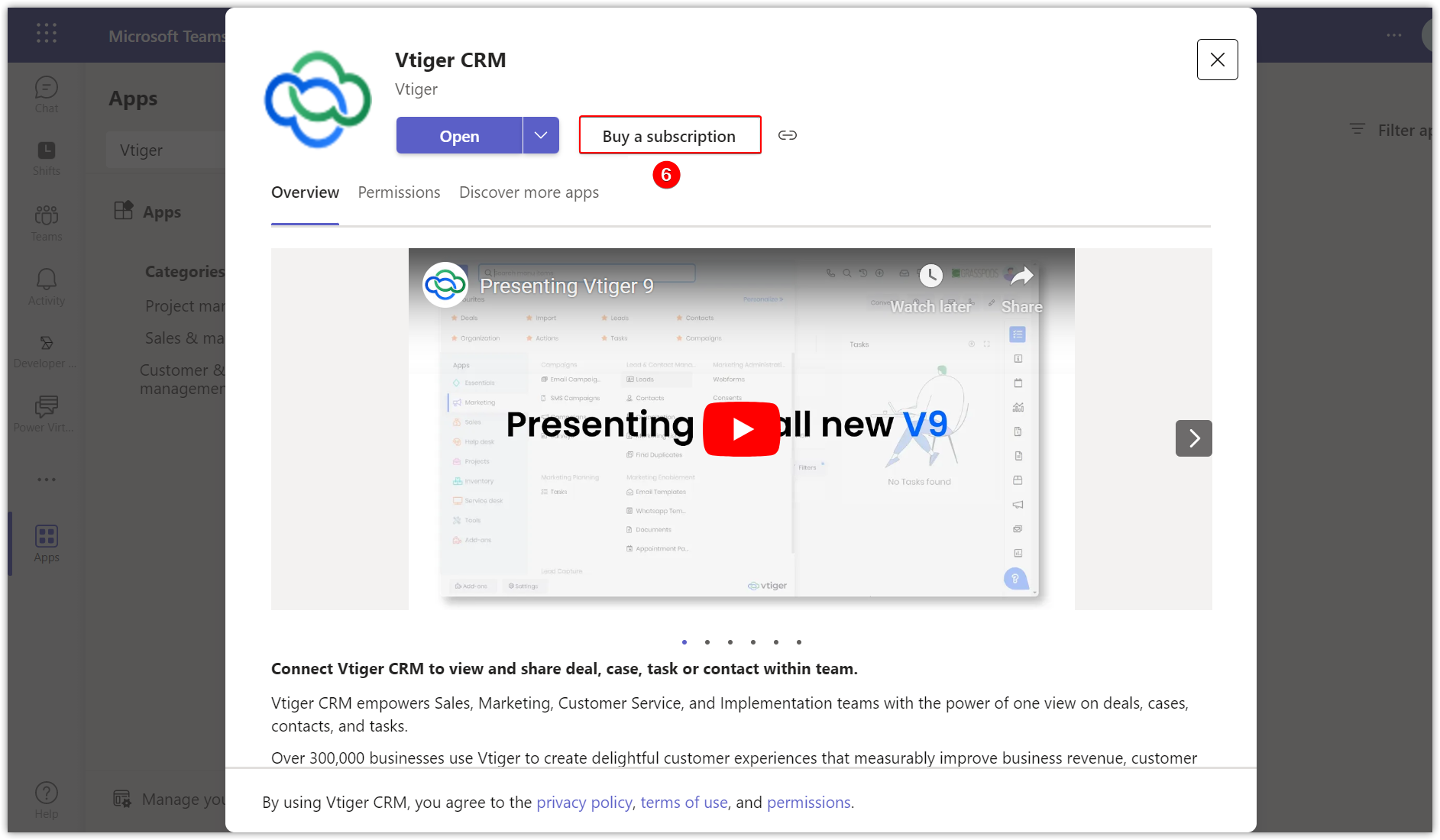 Click

Buy Subscription

.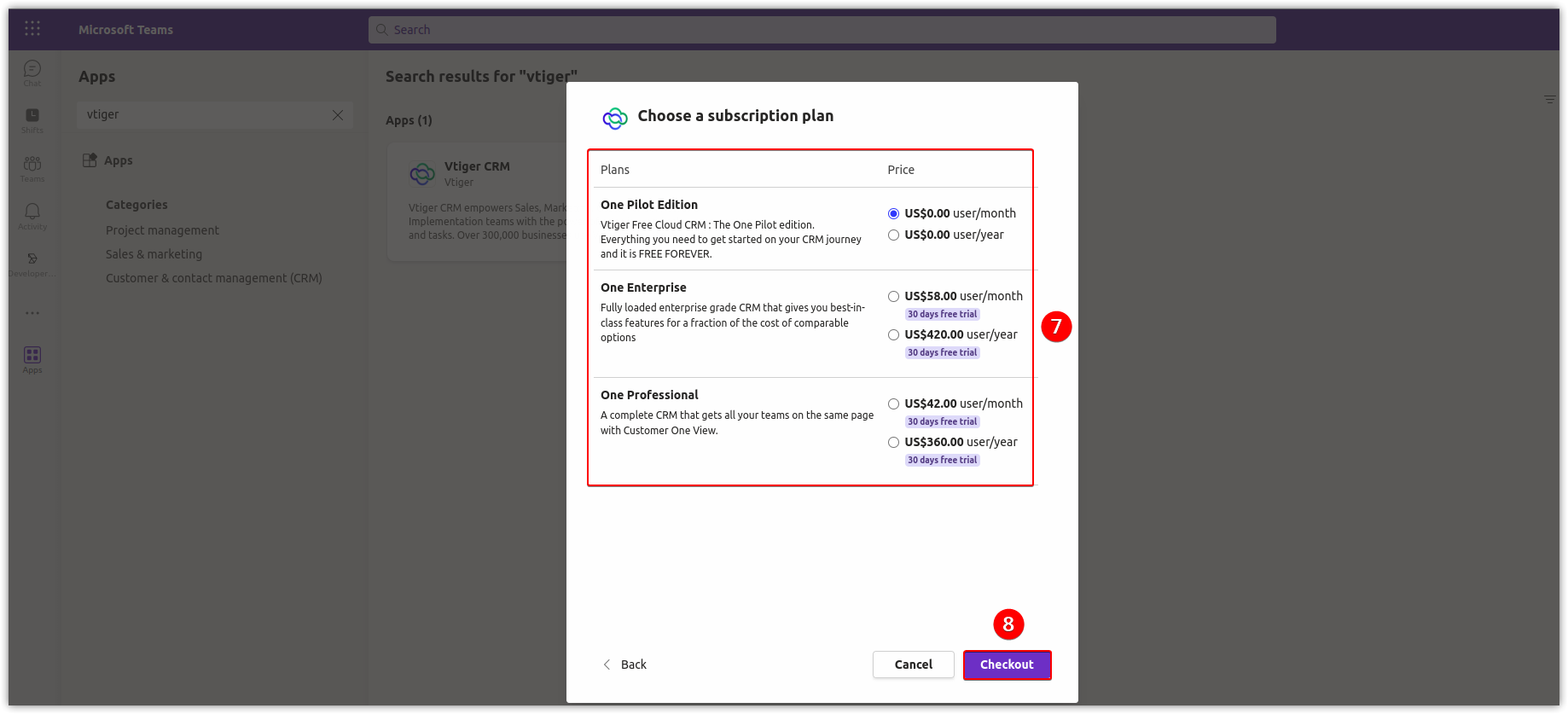 Select the plan you are opting to buy.

Click

Check out

.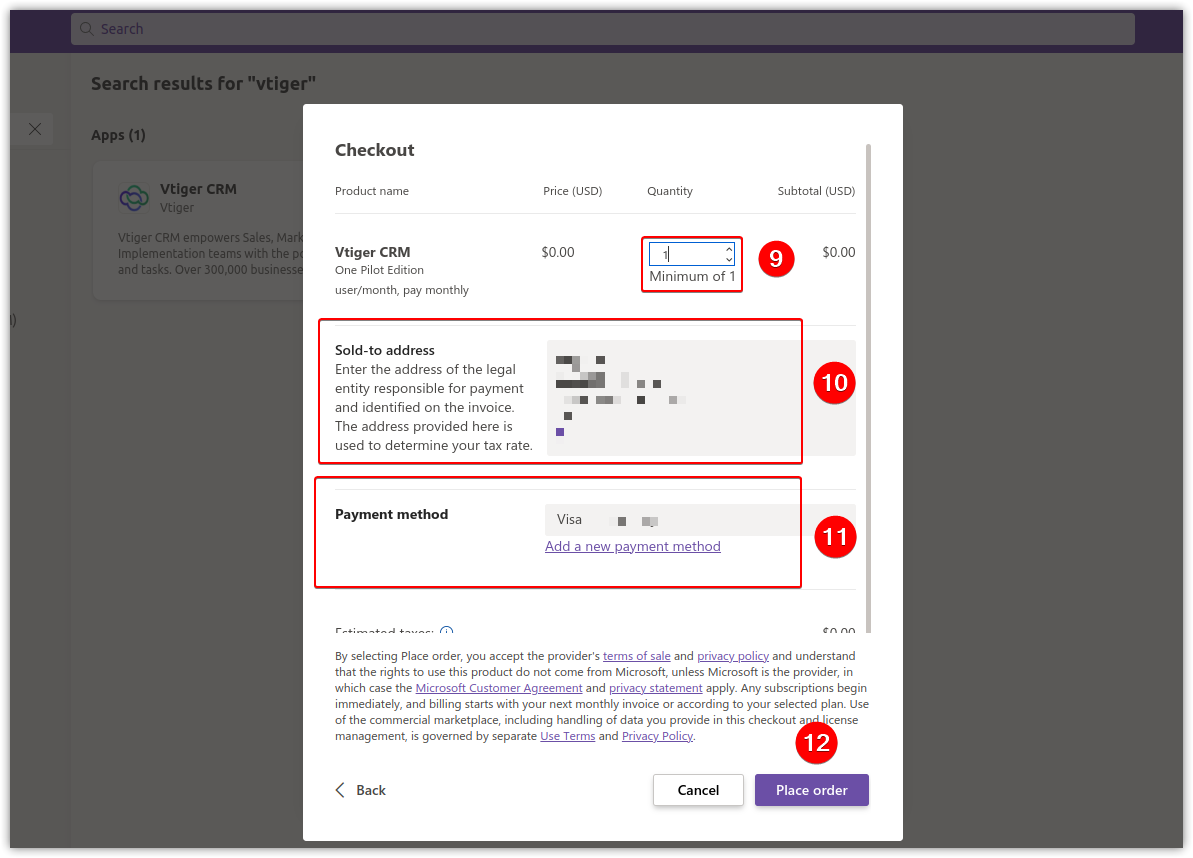 Select the

quantity

in the Vtiger CRM section.

Type your

name and address in the Sold-to address field

.

Enter your

card details in the payment method field

.

Click

Place Order

.
Your order will be placed only after you sign into Vtiger CRM to set up your subscription. Until you don't do the setup, the 30-day trial will not be initiated.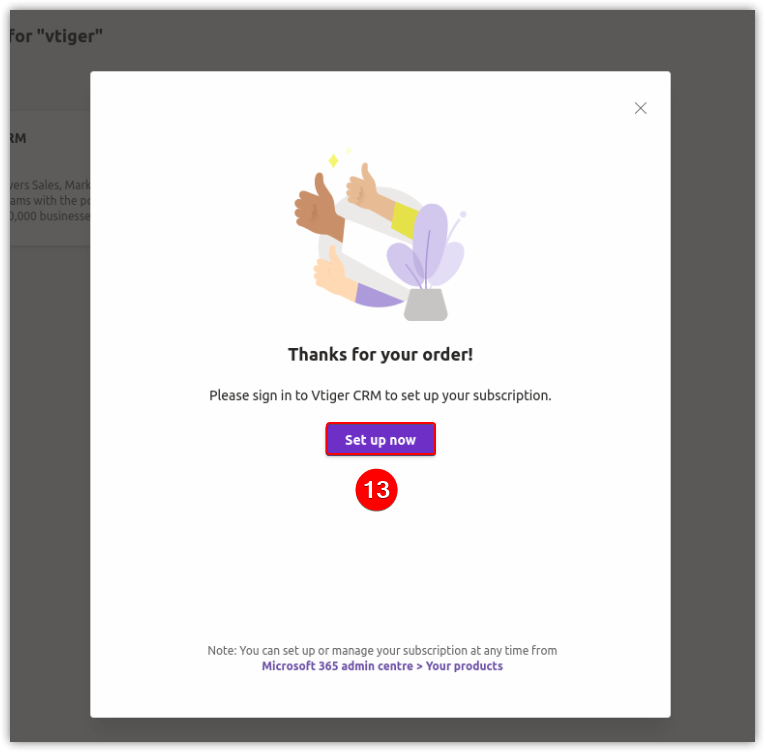 Click

Set up now

.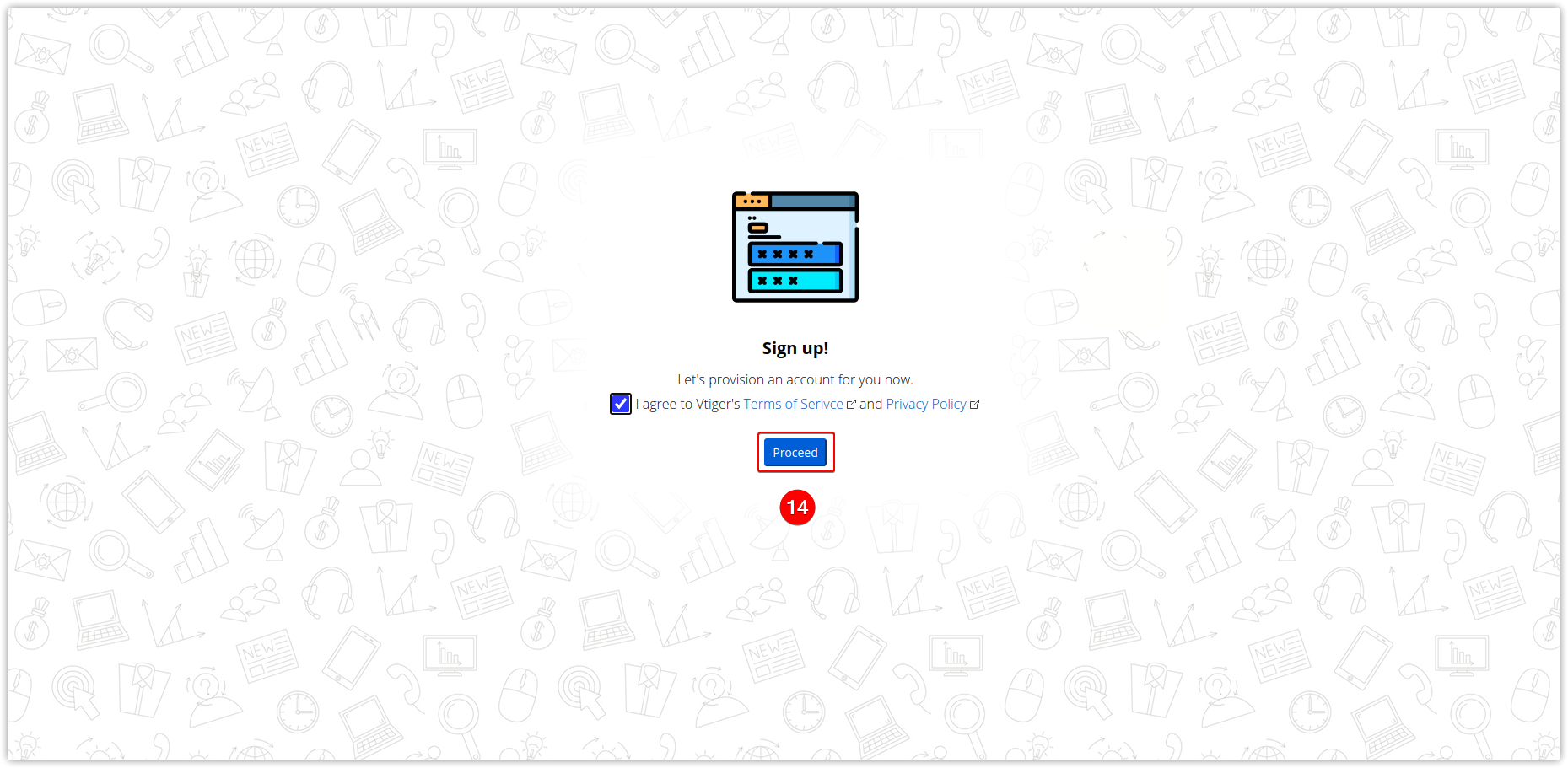 Click

Proceed

.
Your setup is complete and you can access the Vtiger CRM tabs.
Accessing with Microsoft Single-Sign-On
Follow these steps to install the Vtiger CRM app: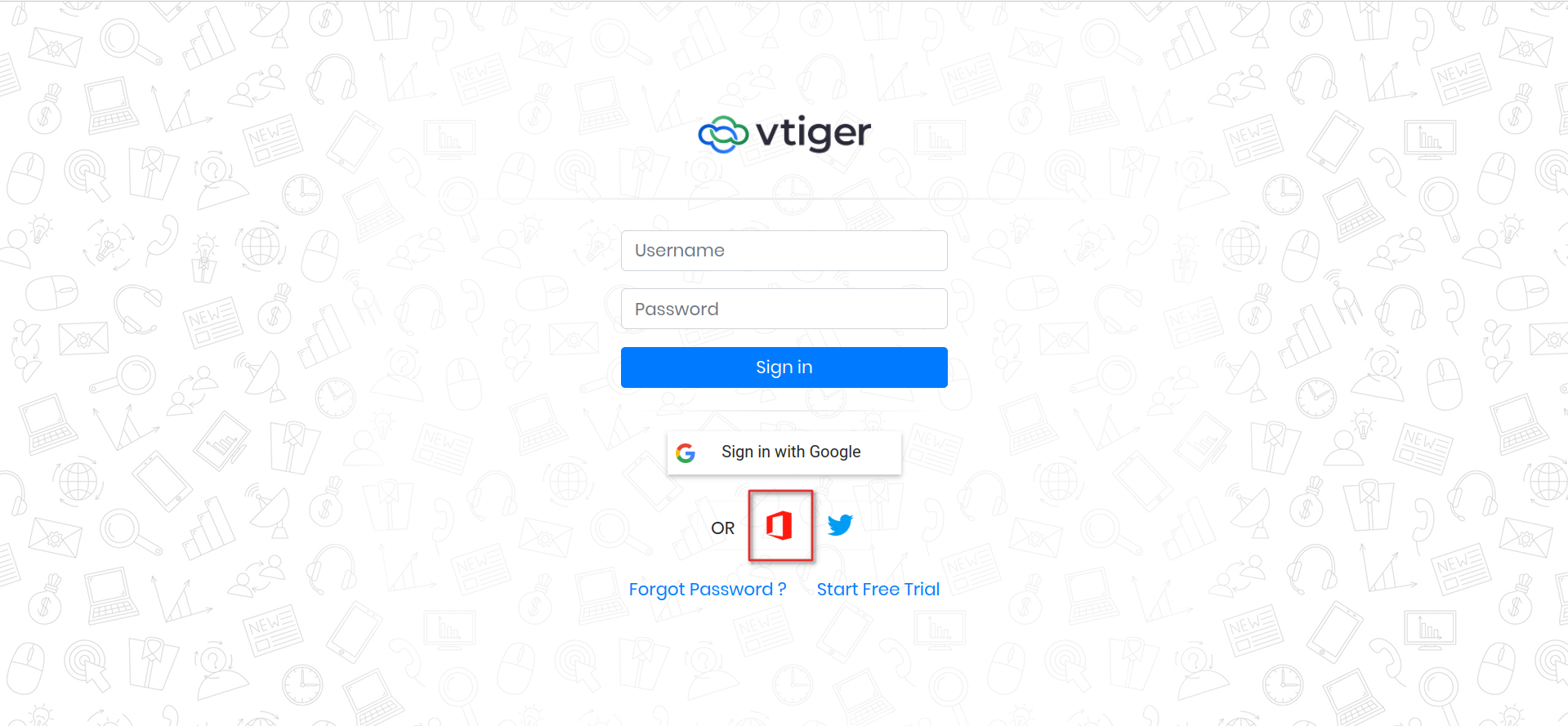 Log in to Vtiger CRM.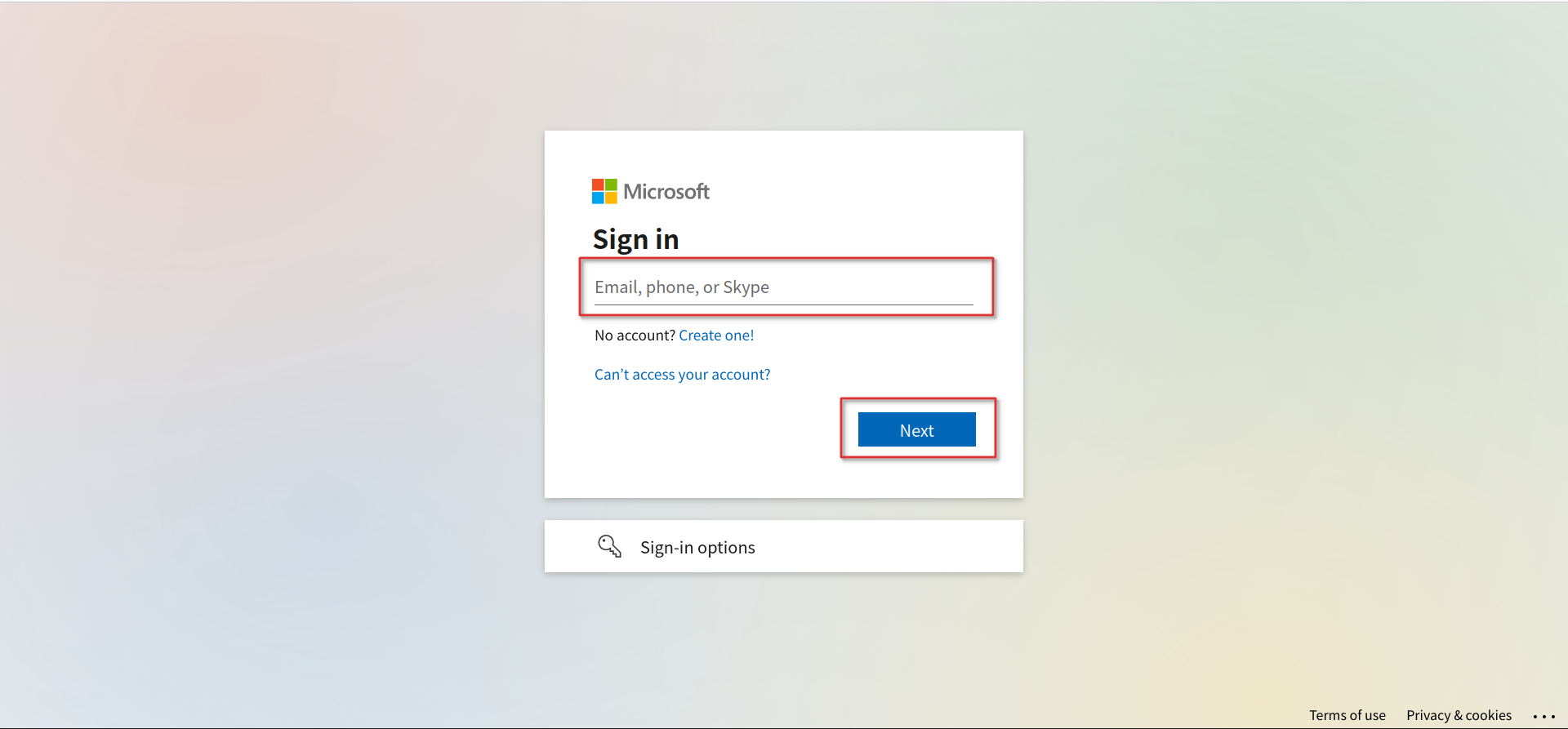 Login using Microsoft credentials
Was this article helpful?
0
out of
0
found this helpful.